Marker Monday: Atlanta Prisoner of War Camp
Welcome to Marker Monday! Each Monday we will feature one of Nebraska's hundreds of historical markers. If you'd like to see a specific marker featured, comment below!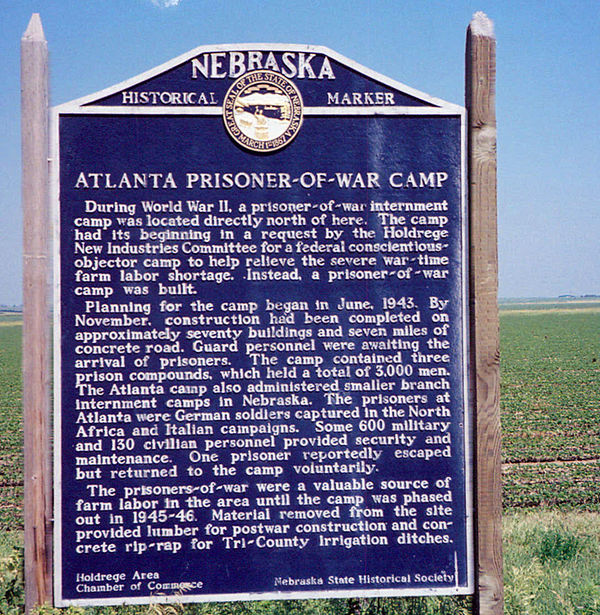 Location
Grand Army of the Republic Hwy, Atlanta, Phelps County, Nebraska View this marker's location 40.377790, -99.46053
Marker Text
During World War II, a prisoner-of-war internment camp was located directly north of here. The camp had its beginning in a request by the Holdredge New Industries Committee for a federal conscientious-objector camp to help relieve the severe war-time farm labor shortage. Instead, a prisoner-or-war camp was built. Planning for the camp began in June, 1943. By November, construction had been completed on approximately seventy buildings and seven miles of concrete road. Guard personnel were awaiting the arrival of prisoners. The camp contained three prison compounds, which held a total of 3,000 men. The Atlanta camp also administered smaller branch internment camps in Nebraska. The prisoners at Atlanta were German soldiers captured in the North Africa and Italian campaign. Some 600 military and 130 civilian personnel provided security and maintenance. One prisoner reportedly escaped but returned to the camp voluntarily. The prisoners-of-war were a valuable source of farm labor in the area until the camp was phased out in 1945-46. Material removed from the site provided lumber for postwar constructed and concrete rip-rap for Tri-County irrigation ditches.
Further Information
Read more about Atlanta Prisoner of War Camp here. 
Nebraska Marker Project
The Nebraska Marker Project is for the repainting, repair and in some cases, replacement of state historical markers throughout the state. Nebraska's markers share our exciting history for generations to come. Please consider donating by visiting the Nebraska Marker Project webpage at http://nshsf.org/the-nebraska-marker-project/.