What's cooler than Kool-Aid? Quenching your curiosity by becoming a History Nebraska Member. Get started today!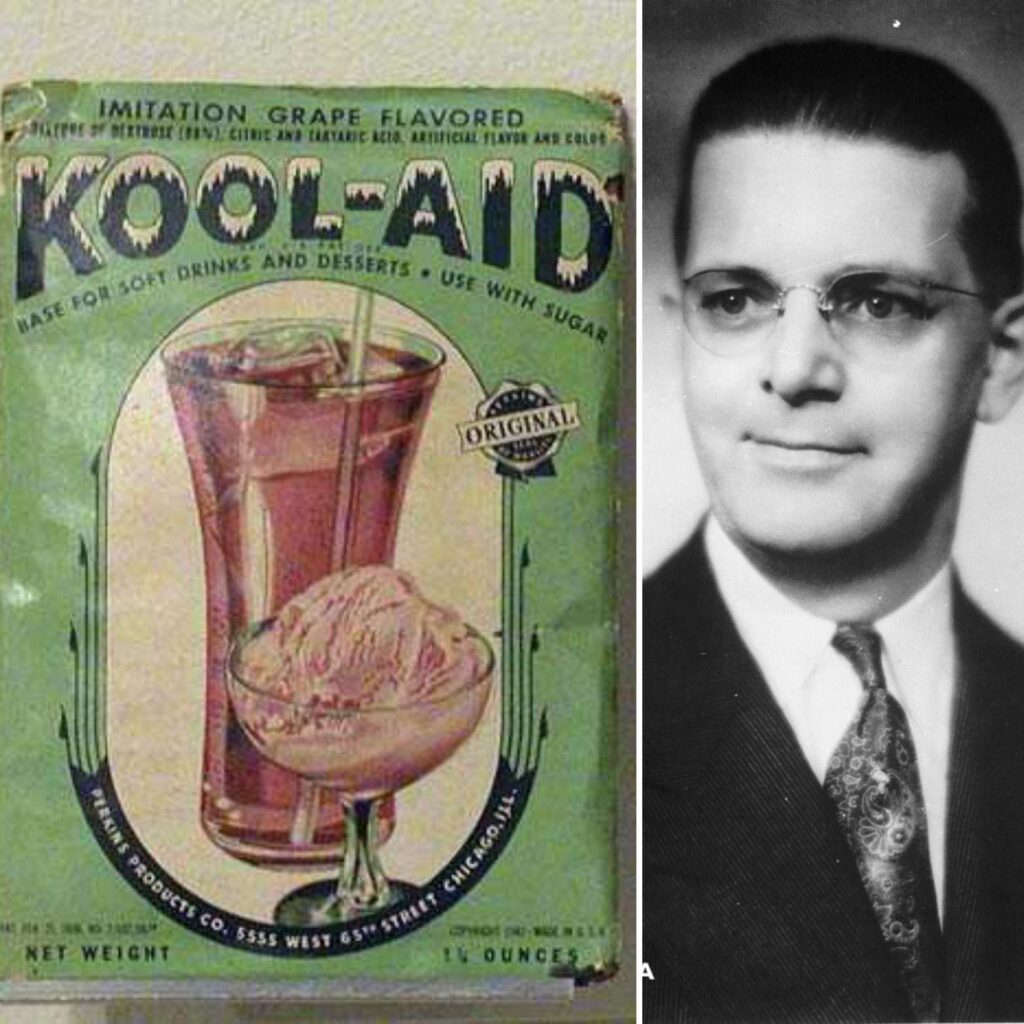 Kool-Aid, the popular powdered drink mix, was developed by Edwin Perkins (1889-1961) in Hastings, Nebraska. As a boy working in his family's general store in Hendley, Perkins became interested in a new powdered dessert mix named Jell-O and persuaded his father to carry it in the store. Perkins also became interested in selling products directly to customers, rather than from behind a counter. Later as a young man he manufactured and sold bluing, perfume, and other products of his own creation, printing labels and advertising material on his own printing press. Eventually he set up a mail order business called the Perkins Products Company.
In 1920 Perkins moved from Hendley to Hastings, a more convenient distribution point for his growing business. Eventually he was manufacturing over one hundred items, including creams, medicines, salves, and food flavoring. He also produced Fruit Smack, a bottled soft drink concentrate in six flavors. Perkins Products representatives sold these items door-to-door.
Fruit Smack was the most popular product in the Perkins line, but its handling and shipping caused problems. The glass bottles were too heavy, too easily broken, and leaked when transported. By 1927, Perkins had developed a method of removing the liquid from Fruit Smack so the remaining powder could be packaged in envelopes (which he designed and printed himself) with a new name, Kool-Ade (later Kool-Aid). The new product came in six flavors-grape, lemon-lime, cherry, orange, raspberry, and strawberry-and sold for ten cents per paper packet.
At first Kool-Aid was sold to wholesale grocery and candy stores. In 1929 Kool-Aid was placed with food brokers for distribution to stores all over the country, and by 1934 it was beginning to be made and distributed overseas. During the Depression the price of Kool-Aid was cut from ten cents to five cents per packet, and it became by far the most successful of the Perkins products. Although economic times were hard, Kool-Aid was still a luxury most could afford.
In January 1931 the Perkins Products Company was moved to Chicago and began to concentrate on the manufacture of Kool-Aid. General Foods purchased Kool-Aid in 1953. Within a year the popular Smiling Face Pitcher was introduced in print advertisements. Kool-Aid is now owned by Kraft Holdings, which markets it with flavors ranging far beyond the original six. Pre-sweetened Kool-Aid was developed in 1964 and redeveloped in 1970. This great summertime beverage, the official soft drink of Nebraska, is still quenching America's thirst.
–Teresa Kreutzer-Hodson, curator of the Hastings Museum of Natural and Cultural History, contributed to this column.